Dehumidifiers get your home dry in a jiffy when you call SERVPRO of Midtown Manhattan
1/8/2020 (Permalink)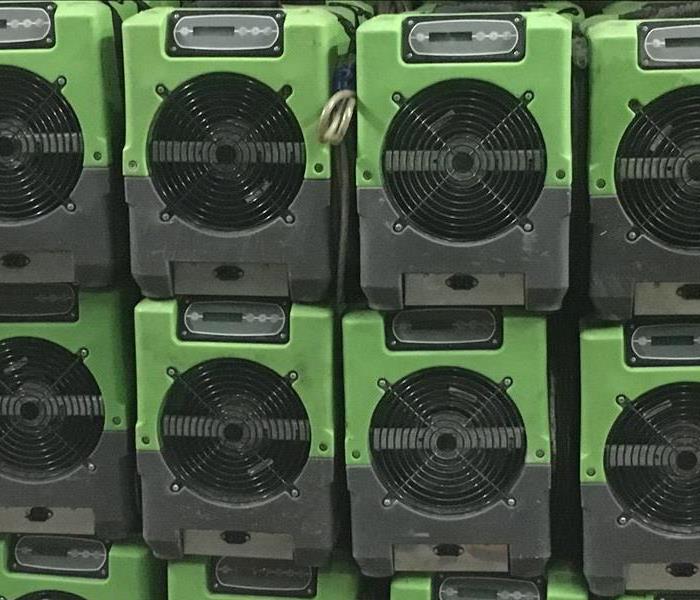 Call your leading Restoration Provider SERVPRO of Midtown Manhattan today for immediate relief of any disaster 212-768-9400!!
WHEN TO USE: Use to reduce moisture levels in the air and accelerate the drying process in water restoration.
HOW IT WORKS: Our dehumidifiers cool incoming air before it passes over cold evaporator coil. The cold coil condenses water vapor into water that collects in condensate pump and is removed by automatic pump-out system.
WHEN/ WHERE NOT TO USE:
For Indoor Use only. Do NOT expose to rain, water or snow.
All refrigerant dehu performance is limited if ambient dew point is under 36º F.
Do not use with any solid-state speed control device.
Unit must be connected to an 115v/60Hz circuit protected by a GFCI device.
Do not use an extension cord with this unit.
SET-UP AND OPERATION:
Optimal operating range is between 70º and 90ºF.
Uncoil and straighten entire drain hose for proper drainage. Pump purges system every 20 minutes or when reservoir is full.
Always store, transport and operate unit in horizontal position. If in vertical position, return to horizontal and allow at least 30 minutes before turning unit on.
To reduce possible water leakage while moving, press purge key at end of job prior to turning unit off to ensure all water is drained from unit.
ITEMS INCLUDED:
#70978 4-PRO – 10.9" x 9.91" x ..79" 3/PK
#70846 40' Drain hose
OPTIONAL ITEMS:
#72490 Protect-it Leak Tray (10/pk.)
F530 Duct Attachment Kit
FEATURES:
Precision Control technology auto-adjusts to optimize water removal across range of conditions.
Solid state control panel.
Automatic humidistat sets and maintains desired humidity level.
Hour meter displays total operating hours and can be set to record current job hours.
40' condensate hose.
25' power cord with hospital-grade lighted plug.
Durable, rugged roto-molded housing.
Easy-carry handles.
Attached cord and drain hose storage wraps.
Stackable up to three units for transport and storage.
Quiet operation.
Easy access for cleaning and maintenance.
SPECIFICATIONS:
Power: 6.2 amps / 115v / 60Hz
Moisture Removal: 80 pints/day AHAM 134 pints/day @ 90º F/90% RH
Airflow: 121-180 CFM | 3.43 – 5.1 CMM
Operating Range: 33ºF to 100ºF | 1º - 38ºC
Dimensions: 12.5"W x 17.6"H x 21.5"D 31.8W x 44.7H x 130.8D cm
Weight: 65 lbs. | 29.5 kg.
Power cord : 25', 14/3 black with hospital- grade plug
ETL listed to CSA standards.
MAINTENANCE: (Follow Dehumidifier Maintenance Checklist) Daily (if used):
Inspect power cord for damage or wear; replace if needed.
Inspect and vacuum or replace filter. Do NOT use compressed air or expose filter to any liquids as it may damage the electrostatic filter.
Inspect drain hose for obstacles, kinks or clogs.
Monthly Maintenance:
Inspect coils; clean when dust accumulation is visible.
Inspect and clean pump, pump housing, check valve and impeller assembly.
DECONTAMINATION PROCESS:
Change filter after each job if mold or other contamination is possible. To decontaminate equipment, wipe thoroughly with hot water and detergent taking care not to expose electrical components to water. Let dry and apply EPA Registered Disinfectant as per label instructions.
COMMON REPAIRS:
Clean or replace filter as needed.
Clean pump check valve and basin.
WARRANTY: Lifetime on rotomolded components. Six years on compressor and coils. One year on parts and labor.